Enrique Iglesias Gay, Straight or Bi?
Enrique Iglesias is a 39-year-old singer, songwriter and actor has had the type of career that most performers can only dream of! Ever since the mid 1990's when he released a collection of light rock ballads in his album, Enrique Iglesias, his status as a major celebrity has skyrocketed ever upward. We have written about this super sexy Latin pop star before as part of a wider exploration of his sexual orientation.
He got his start on an American Spanish Language record label, which is something that not only helped him cross over into the mainstream but also see dramatic success on two continents at the same time.
For many years, Iglesias was one of the biggest stars in the United States and even had the best selling Spanish-language album of the decade at one point! He's also yet another in a long line of celebrities who people seem to think is gay, even though he has been known to always keep a string of ladies by his side. When you look at a few of the reasons why people think Enrique might be gay, however, things will start to make a bit more sense.
via GIPHY
1. He's Got a Huge Gay Fanbase
While straight performers having a huge gay fanbase is nothing new, Enrique Iglesias seems to particularly love his gay fans in a way that many others don't.
While this could just be a successful singer/songwriter who is exceedingly thankful for all of his success taking the time to show support to every demographic that buys his records, many also believe that it is a sign that he is secretly gay himself. Actors Colton Haynes and Chris Evans also have giant gay fan bases.
2. He Addressed the Gay Rumors Directly… Sort Of
When gay rumors start to swirl about a particular celebrity, you can usually expect that they will not comment publicly for a wide variety of different reasons. Not Enrique Iglesias, however. He directly addressed the rumors on Facebook after being asked by a fan.
The issue was that he did not directly answer the question with a traditional "Yes" or "No," instead simply posting a comment about how "most people are good and humans."
This type of vague answer has only spread fuel on the "Enrique Iglesias is gay" rumor fire. Other stars who have been on the receiving end of pink gossip as a result of ambiguity include Jared Leto, Chris Pine and Zac Efron.
3. He Isn't Married
Yet another reason why many people think certain celebrities are secretly gay comes by way of the fact that they reach a certain age and have yet to settle down.
When a male celebrity is in his twenties, it's almost expected that he will move from relationship to relationship every few months. Enrique Iglesias' situation is a bit different – he famously dated Anna Kournikova for 12 full years. She left him, however, because she was tired of waiting around for him to marry her, which is something that did not do him any favors if he was trying to get rid of these gay rumors once and for all.
Other unmarried stars who have had gay rumors swirling about them include Shemar Moore and Jake Gyllenhaal.
4. He's Had Cosmetic Work
At one time, Enrique Iglesias had a distinctive mole in the mid-section of his face, right side. Suddenly after 2003, it was noticed by fans everywhere that the mole was gone!
In an interview the sexy pop star gave to the media at the time, Iglesias shared that he had the mole removed at the prompting of his doctor to prevent cancer. In a spoof appearing on Mun2, Enrique Iglesias was "interviewed" by his mole. We've included the video above.
Anytime a male celebrity undergoes a cosmetic procedure, gay rumors are sure to follow. We've covered the topic of plastic surgery with other celebrities for fun in the past.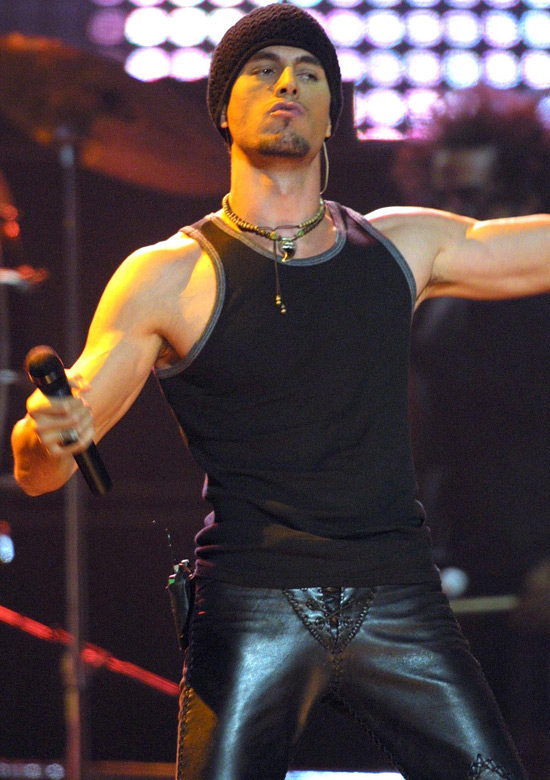 5. He's Admitted to Liking Boys and Girls in the Past
This one requires you to read into comments Enrique Iglesias has made in the past in a bit more detail than might be appropriate. However, in light of all of the other items on the list, there may be something here.
Iglesias has admitted in interviews in the past that he enjoys flirting – it doesn't matter if it's with boys or girls. He's also been known to hold hands with men during concerns, which has certainly added to the perception that he may be choosing to hide more information about his sexuality. And let's not forget the gay Doritos ad he did back in 2002!
And hey – doesn't he look GREAT in leather?
via GIPHY
Enrique Iglesias Final Thoughts
There is no doubt about it – Enrique Iglesias is arguably one of the hottest male pop stars on the planet. We absolutely LOVE this star and know many visitors of this blog feel the same.
What's not to dig about this ridiculously handsome, rugged and magnetic singer? We have no idea what the sexual orientation is of Iglesias but we do know this – his picture should be put next to the word "Papi" in any dictionary. Woof – with double cherries on top!
We've included a poll for you to vote in on about Enrique Iglesias below. Remember, it's just for fun so don't take it too seriously!
Thanks for visiting Gay Pop Buzz.