Kenny Chesney Gay Boyfriend Fantasy!
Kenny Chesney gay rumors are nothing new and we have covered this sexy vocalist in the past on our blog. Given recent news of other country singers coming out of the closet, like Billy Gilman and Ty Henderson, we were inspired to write about the fantasy of what it might be like if Kenney Chesney decided to wake up tomorrow morning and out himself – and announce you are his boyfriend!
Let's face it – Kenny Chesney is a major catch! The dude is built, funny, cute and the perfect size height for just about anyone (he's 5'6 without boots on!). He has jock build, with pretty blue eyes that seem to stare straight (no pun intended) through you. There are specific things that make Kenney Chesney the ideal gay boyfriend as well. Are you ready to go through our list of 5 reasons? Let's jump right in!
1. Kenny can sing to you!
Imagine what it would be like to come home and have Kenny Chesney sitting on the couch, serenading you with your favorite tune? With his deep southern twang and soft, gentle smile, he could send you over the mood with songs like Me and You and How Forever Feels! Just the thought of his major southern hunk whispering sweet nothings in your ear should make you quiver like a teen-age school girl!
2. You Can play with His Tractor!
One of Kenny Chesney's biggest hits is, She Things My Tractor's Sexy. Come on admit it – you think Kenny's tractor is sexy too and you KNOW you want to play with it. But what would it be like if you were his boyfriend and he let you ride his tractor?
Wouldn't that just make your day? And he doesn't seem like a narcissist either – he would probably want to play with your tractor too!
3. He has lots of money!
Any gay man who ever tells you that money doesn't matter when it comes to boyfriends and relationships is frankly lying to you! One thing you would not have to worry about with Kenny Chesney is money.
The man is rumored to be worth somewhere north of 44 million dollars according to Forbes Magazine! Other estimates have that number much, much higher! Think of all of the wonderful things you and Kenny could by with that kind of dough – a trip to Europe, a shopping spree in New York – a trip to the cosmetic surgeon for a touch up!
4. He's masculine!
One thing you have to say about Kenny Chesney is that he is masculine. He's into sports and used to play baseball and football back in high school, according to published reports. In fact the only time Kenny hasn't acted masculine is when he's palling around with his buddy, Tim McGraw and talking about grabbing at other men.
 
5. Kenny's Never Home!
Kenny seems to constantly be on tour. It seems like just yesterday he wrapped up his King of the Road Tour and just recently announced his Big Revival Tour. Since he is on the road so much, you can hang back home and chill at his big-ass house in Franklin, Tennessee, purchased for a rumored 9 million dollars. If you don't want to be left behind, you can always tag along on the multi-city songfest and ride in Kenny's gigantic bus!
FYI – Kenny Chesney's new tour starts March 26, making him an Aries. We wonder if your sign are an astrological match? If not, you can always see if you have better energy with hot male Scorpios like ABC's David Muir and Gio Benitez! But then again, all that hotness might be more than you can handle.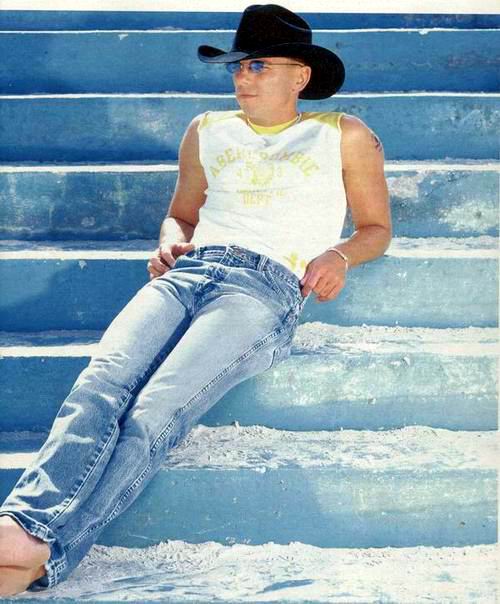 Final Thoughts
We love Kenny Chesney here at Gay Celebrity Gossip. The man is just a walking, talking (and singing) pillar of hotness. The gay rumors that have plagued this star have been floating around for more than a few years now. Many of the pink whispers can be traced to the usual suspects, such as wishful thinking on the part of some gay men, coupled with Chesney's desire to keep his personal life private. We respect that!
Still, that's not stopping us from fantasizing about what it might be like to have Kenney Chesney as a gay boyfriend. Come on – you have to admit the dude is a major hottie! We have included a Kenny Chesney Boyfriend poll for you to vote in for fun.
Thanks for visiting Gay Celebrity Gossip. Please like us on Facebook, Circle us on Google Plus and share on Twitter!