Billy Magnussen Gay Eye Man's Candy!
Billy Magnussen is one of the hottest stars to hit movie theaters in recent memory. His musical role as Rapunzel's dashing Prince in the movie, Into the Woods with co-prince, Christopher Pine, was memorable to say the least! Who can forget the ridiculously hot and majorly campy duet featuring Magnussen and Pine singing Agony? And did you catch the major basket shots of Billy during the tune? It certainly caught our attention! Perhaps this why some fans refer to him as Billy "Magnum"? Woof – the dude is a stud!
Given the hotness of this actor – people genuinely want to know all they can about this rising star. Specifically, followers want to know who Billy Magnussen is dating, what his interests are – and – if Billy Magnussen is gay?! This brief post will offer five information points to help provide background about the actor.
We've included some fun pictures too as a way of highlighting his sex appeal. And of course – there is a poll at the end for you to vote in. Are you ready? Let's jump right in!  

Billy Magnussen: Gay-Ta File
Date of Birth: April 20, 1985
Place of Birth: Queens, NY
Sign: Aries
Height: 5'11
Shoe Size: 11-12 (rumored)
Body Type: Twunk
Eyes: Blue      

1. Billy Magnussen Bio
Magnussen was born in Queens, NY but at the age of 10, his family moved to a town called Cumming, Georgia (we didn't make the name of the town up!).
During high school, he was a major jock who was active in football, hockey, soccer and wrestling, according to an interview in Theater Mania. After graduating high school in 2003, he went on to attend the University of North Carolina.  

2. Billy Magnussen Acting Career/ Movies
Magnussen has a number of credits under his belt. He got his start on Broadway in the 2007 revival of The Ritz. The plot of this play involved a businessman who took refuge in a gay bathhouse from a homicidal mobster. It goes without saying that anytime an actor appears in a Broadway play, particularly one with a heavy gay theme, rumors are bound to follow.
Television credits include the role of Casey Hughes on the soap, As the World Turns (2008) and Law and Order – Criminal Intent. Movie credits include Into the Woods as Rapunzel's Prince (2014) and Revenge of the Green Dragons in the role of Detective Boyer (2014).
Lots more we did not mention here. You can read his extensive line of work on his IMDb file.    

3. Billy Magnussen Girlfriends
There is precious little information available about this actor's dating life. In interviews available online, Magnussen does not talk about his personal relationships and appears to be a guy who likes to keep details of his personal life private.
Anytime an actor is ambiguous about their romantic life there is a good chance gay gossip and pink whispers will erupt. Other actors who have experienced this phenomenon include Jake Gyllenhaall, Kenny Chesney and Shemar Moore.      

4. Billy Magnussen Gay Rumors
We've covered some of the reasons gay rumors exist about Billy Magnussen above, including his first gig in a gay themed play and the apparent void in his dating life. There are other reasons, however, that cause some folks to wonder if he is gay.
As mentioned earlier, anytime an actor works in theater, particularly on Broadway, there's going to be pink whispers.We have seen this with actors like Hugh Jackman and Daniel Radcliffe.
Second, this is a very good looking actor who has showed off his stuff in on stage. Going by the visual evidence, he appears to have a LARGE basket of talent.
Third, Billy Magnussen is just plain pretty. He had golden locks of hair and crystal blue eyes. His body is chiseled and cut. The dude obviously takes care of himself. Silly as it may seem, when you combine all of these ingredients together, there's going to be a lot of gay men who engage in wishful thinking. We certainly have had our fantasies here at the blog!
None of this of course makes anything true but it does help to provide context regarding why these gay rumors exist. Other actors who have been on the receiving side of rainbow whispers for the reasons mentioned here include Daniel Sunjata and Aaron Tveit.
FYI: Sometimes, actors will purposely keep the specifics regarding their personal life private as a way of creating buzz around their celebrity. An excellent example of this can be found in Benedict Cumberbatch, who recently announced his engagement. Jared Leto is yet another example.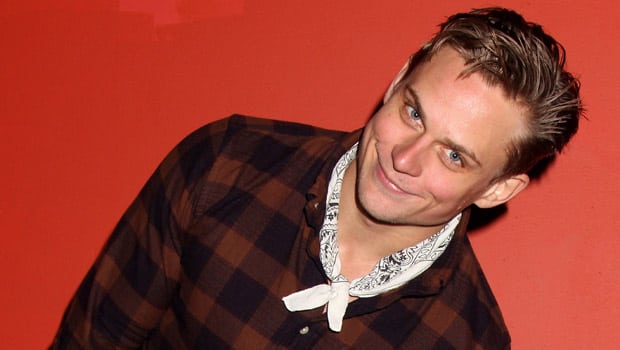 5. Billy Magnussen Other Fun Facts
Billy Magnussen is a multi-talented guy. He is a bass player and songwriter who was part of the New York City based band, The Dash. He is currently in another musical group called, Reserved for Roundtree. His mom is a yoga instructor and his handsome dad is a carpenter, kickboxer and bodybuilder. Magnussen got into acting during his high school years. He injured himself in a wrestling match, which caused him to have to skip gym.
As an alternative, he was placed in acting, according to the interview he gave to Theater Mania back in March of 2013. He also indicated in this same interview that the good thing about being placed in theater production at his school was because: "the girls are there".
Does this statement give us an early clue about is sexual orientation? Maybe!  

Final Thoughts
We love Billy Magnussen. This is an actor who seems to have a wonderful sense of humor and a wide range of talent. It seems as if Hollywood likes him as well, going by the numerous roles he will be taking on in the future! We don't know if this actor is gay. All we can do is speculate and fantasize! Just for fun, we have posted a Billy Magnussen poll for you to vote in. Please be sure to read each choice before making a selection. Later on, come back and see how your vote fared in comparison to others.  

We look forward to seeing Billy Magnussen in future movies. With his wicked blue eyes, rock hard body and giant basket of talent – there's a lot to dig about this rising star! Thanks for visiting Gay Celebrity Gossip. Please like us on Facebook, Circle us on Google Plus and share on Twitter!