Straight to Gay Sex Trends
Is straight to gay sex now becoming a trend? Well, new research seems to suggest that more and more, men who identify as "straight" are engaging in same sex activities.
A study published by San Diego State University in conjunction with faculty from Florida Atlantic University and Widener University analyzed data from 30,0000 research participants from the General Social Survey.
The study itself sought to assess attitudes about same sex behaviors since 1973.
What was most interesting about the survey research was the uptick in men who reported having had sex with at least one man, going from 4.5% to 8.2%.
And the same research saw that participants who had sex with both women and men increased from 3.1% to 7.7%.
Leading the way in these increases were millennials, a group that is generally thought to have been born from the early 1980's to the year 2000.
According to the published report, "Millennials–adults between the ages of 18 and 29 during the 2010s–7.5 percent of men and 12.2 percent of women reported having had a same-sex experience."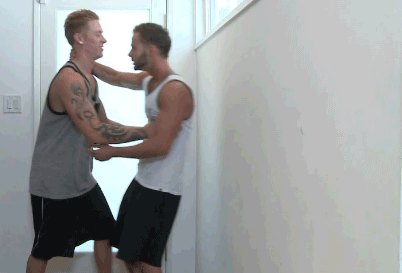 Straight to Gay Sex Research: What Does It All Mean
While one scientific study may be an interesting to look at on this topic, it is important to take a look at a wide swath of research before generalizing findings to the public. This is particularly true when you take into account cultural norms.
A case in point can be found in a 2016 report published by the Centers for Disease Control in Prevention that suggests more and more, "straight" men in the United States are now identifying as bisexual.
According to the findings, nearly two percent of men and 1.3 percent of women said they were exclusively homosexual. And nearly 5.5 percent of females and 2 percent of males identified as bisexual.
Previous research from the year 2010 found that 1.2 percent of men self-identified as bisexual. And females between the ages of 18-24 seemed to be more apt to self-identify as "bi" than women aged 24-44.
So does this mean that gay men now have the green light to run out and try to seduce a straight guy? We think the answer is no.
Here is why.
While there are tectonic shifts taking place around the globe regarding sexual orientation, sexual behavior and the acceptance of same sex relationships, geographic location seems to be an important factor.
Last August for example, a British focused research study conducted by YouGov found that 1 in 2 people said they were not 100% heterosexual. Compare this with a study conducted by the same organization that found a third of young Americans aren't 100% straight.
When balancing the CDC report mentioned above and taking into account target population groups of the various studies, it's easy to see that in the United States, identification as "straight, gay or bi" still continues to cling to long standing sexual constructs – although it does seem to be losing its grip.
via GIPHY
Straight to Gay Sex: Cultural Influences
One interesting study published by Kinsey  suggests that around 60% of pre-adolescent boys engage in some type of homosexual activity. So why don't same sex acts continue into adulthood?
The reasons are multi-factorial and are largely connected to societal norms.
Research has shown that sexual attitudes and knowledge come to us from a variety of sources, including mass media, parents, peers, past relationships and general society. Together, these factors not only influence sexual attitudes but also, sexual behavior.
Straight to Gay Sex: Final Thoughts
What is clear is that according to a meta-analysis of existing research, there does appear to be massive shift taking place at this moment in time in how people view sex, relationships, orientation and gender on the global scale.
We wonder twenty-five years from now how perceptions will change and with it, accompanying sexual behaviors?
—
Related Stories: