Prince Harry And Meghan Markle Are On Our Side
Prince Harry and future wife Meghan Markle say they'll focus on LGTBQ issues after their marriage.
The engaged couple made this announcement while speaking at the Commonwealth youth Forum in London. (The Commonwealth being the union between the UK and several countries that were once colonized by the British).
The theme of the event was "Powering Our Common Future" and the royal couple spoke on that topic.
Specifically, Markle shared with Australian Jacob Thomas, who won a Queen's Young Leaders Award for helping to lower the suicide rate within the LGBTQ community in Australia, that the two were especially interested in helping LGBTQ rights.
"Miss Markle said, and these were her exact words, 'This is a basic human rights issue, not one about sexuality'," Thomas told reporters after the event.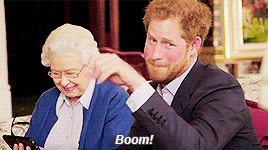 And if you think this is all Markle's idea with Harry just being added onto it, you'd be very wrong. Prince Harry has been an outspoken supporter of LGBTQ rights and has shared that he became close with gay soldiers while he served time in the military.
On top of that, Prince Harry also talked to Thomas about the issue of LGBTQ rights and how he's interested in lending a helping hand to advocate for it.
"Prince Harry said that what was so amazing was that 10 or so years ago, we wouldn't have been having this conversation and how incredible it was that we now were," Thomas later added.
"Both Prince Harry and Miss Markle said they would put LGBT issues at the front of their work," Jonah Chinga, an LGBTQ activist from Kenya, told People Magazine.
We look forward to seeing what the soon to be married royal couple does for LGBTQ rights.