Tom Daley offers sweaty fun!
Recently married Tom Daley recently cut a workout video that's worth checking out. The Olympic British swimmer has decided to get back into training and is now giving fans an up close and personal view of his intense workout.
The out athlete, who got hitched to Oscar-winning screenwriter Dustin Lance Black, posted a new YouTube video called "Hot and Sweaty! A Fresh Start!" for all to see.  Viewers are treated to visual eye candy where he shows his first workout routine since taking time off for his wedding and honeymoon.
More: 25 facts on Tom Daley revealed
"It's gonna hurt but I thought I'd take you guys with me…to show you the pain I'm going to go through," he shares in the clip. "Hopefully it'll be a productive week of training."
In the vid, you'll see young Mr. Daley (23) doing weight-lifting, aerobics, swimming and, not to be left out, diving. Perhaps the best part are various moves of him stretching – intensely.
Set to music, Daley smiles at the camera and occasionally talks to viewers to pull them into the fun. Upon completing the workout, he shares that he is a little sore and needs to wear recovery compression to help with blood flow.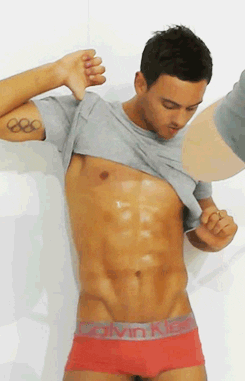 Apparently, next week, he'll be doing an intense ab workout with the goal of helping others exercise at home. Viewers are encouraged to subscribe to his channel to get the latest updates. If this is something you would like to do, here is the link.
As an aside, there is a growing trend among public figures (particularly folks with large LGBTQ audiences) to create unique YouTube channels as a way of reaching fans. Taking this approach allows the person to speak directly to followers without having to go through a major media outlet.
Enjoy! 🙂